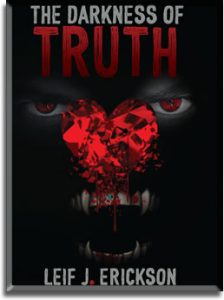 In the war between the Darkness and humans, sixteen-year-old Anna Negru finds herself working with Lilith, the first Vampire, to stop the evil that threatens to cast our humanity into the darkness of eternity.
Anna Negru had always enjoyed her simple life in Bucharest, the capital of Romania. Living with her parents in a small apartment above their used book store, Anna dreamed of running the store as she spent her free time reading the books contained within. When her parents were killed in a car accident, Anna's life took a dramatic turn.
Anna's grandfather, Davor Negru, agreed to move into the apartment above the bookstore and help the sixteen-year-old Anna run the store while she finished school. Davor, with a life of his own consisting of religious archeology and ancient mysteries, often left Anna to her own devices. Watched over by a few family friends, Anna was able to carve out a life that somewhat resembled the life she dreamed of.
Although her country is peaceful and quiet, a Darkness is growing as prominent members of business and politics start going missing. When Davor disappears late one night, Anna is thrust into a world that resembles things she's only read about. Helped by Lilith, the first wife of Adam, and the first vampire, Anna discovers that religion and history are far more subtle as she'd learned.
With darkness on their trail, and an evil growing, Anna and Lilith search deep into Davor's work to uncover the clues of the secret society that he worked with that helped protect humanity against the Darkness. With riots in the street and more people being turned into vampires by the hour, Anna and Lilith race to find the weapon that can end the Darkness for eternity.